LAND ROVERS, RANGE ROVERS & JAGUAR SERVICE & REPAIR EXPERTS
INDEPENDENTLY OWNED & OPERATED | NOT AFFILIATED WITH LAND ROVER NORTH SCOTTSDALE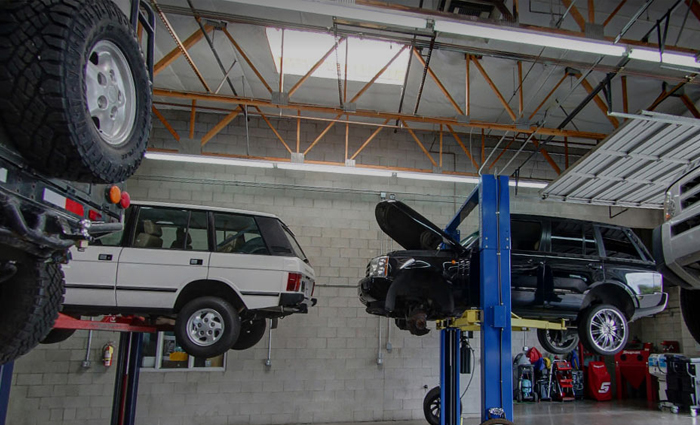 FREQUENTLY ASKED QUESTIONS BY ROV-N-TECHS ARIZONA 480-998-6617
We perform all factory recommended services on Land Rovers & Jaguars at affordable prices! Master Technicians, Joe Caraway and Kevin Curtis worked at Land Rover of North Scottsdale for 10 years before opening their own shop in 2006 under the name of "Rover Techs". Now known as "Rov-N-Techs" Joe and Kevin offer over 35 years of combined Land Rover experience.
DO YOU USE GENUINE LAND ROVER PARTS?

Yes, we always use quality, genuine Land Rover Factory parts.

DO YOU DO WARRANTY WORK?

Yes. We can do all Land Rover Extended and after market warranty work.

MY ``CHECK ENGINE, SERVICE SOON`` LIGHT IS ON. WHAT DO I DO?

Call us as soon as possible to schedule an appointment. We have all the diagnostic equipment and expertise to diagnose the problem and perform the repairs.

WE ARE GOING ON A ROAD TRIP. WILL YOU GIVE MY LAND ROVER A CHECK UP?

Yes. Call us for an appointment and we will perform a safety inspection free of charge so you can be confident that your Land Rover is roadworthy.

DO I NEED AN APPOINTMENT TO HAVE WORK DONE ON MY LAND ROVER?

Yes. Although there are a few small repairs we can do no a walk-in basis, it is best to have an appointment so we can put a special time set aside for you and your vehicle.

WHY ARE YOUR PRICES LOWER THAN THE LAND ROVER DEALERSHIP SERVICE CENTER?

We are a small family owned repair shop without all the overhead and high costs of the dealer.

CAN YOU PROGRAM MY KEY?

Yes. We have the same equipment and programming ability as the dealer.

DO I REALLY NEED TO USE ``PREMIUM GAS``?

Yes. Your Land Rover was designed to use "premium fuel". It will operate most efficiently and will need fewer repairs when you use the best gas.
COST SAVINGS VS. THE LAND ROVER DEALERSHIP
Rov-N-Techs only use quality, genuine Land Rover factory parts on your vehicle, but on average you will save relatively 20% vs. a Land Rover Dealer.