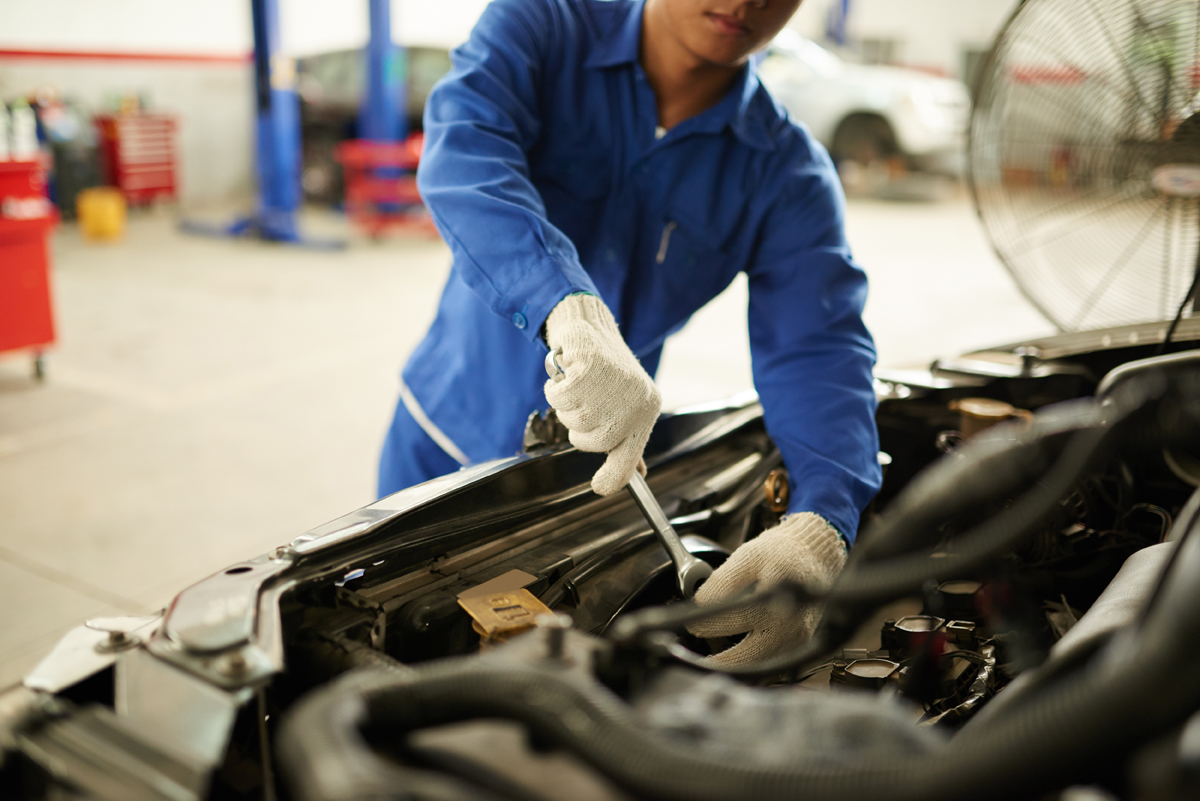 From coolant loss to transmission failure, here are five of the most common Jaguar repairs.
1. Brake Problems
Sticking means the pedal will not return to its resting position once it's been pushed down. This can be a very common problem in Jaguar X-Type diesel models. It boils down to a faulty internal spring in the brake servo unit. At this point, your best option is a full replacement.
There have been a few reported issues with the braking system, including:
Noise (clicking, squeaking or creaking) has been reported coming from the front brakes found under the light brake application. The way to correct this is through lubing the brake caliper and pad surfaces, featuring installation of new front brake pads.
One part of the antilock brake system that can fail is the brake pressure accumulator. In turn, this can cause a stiff brake pedal. A driver will be forced to apply excess pressure when trying to stop or slow down.
2. Engine Problems
A low rumbling sound heard while driving is coming from the engine. This means there is an issue with the bottom crank pulley damper assembly. Because this is such a time-consuming repair, a rumbling engine represents a costly trip to the mechanic.
Some common engine problems include the following:
Within the V8 engine of the S-Type, timing chain issues can cause serious damage. When the chain is off, you may hear an engine noise during a cold start or while idling. This is an indicator of a timing chain tensioner problem.
Rarely, the engine has been known to overheat, which causes damage to the cylinder bores. This can ultimately lead to excessive oil consumption.
3. Transmission Failure
Unfortunately, premature automatic transmission failure is commonly found in multiple Jaguar models. Diagnosis is then needed to determine if a repair or replacement is necessary at this time. Typically, seven model years experience this failure, including 2000, 2001, 2003, 2004, 2005 and 2006. This may happen after 100,000 miles.
4. Ignition Coil Failure
Six different model years have yielded some reported ignition coil failure. Failure will cause the engine to operate poorly due to misfires in the Jaguar S-Type. The issue can be intermittent, yet often times it will not trigger the check engine light. Models affected include: 2000, 2001, 2002, 2003, 2004 and 2005. Typically, this failure can happen at an average mileage of 108,000. It will cost around $800 to repair, according to Hances.
5. Coolant Loss/Engine Overheating
A plastic coolant reservoir is prone to leakage. Leading to a loss of coolant, this can also cause the coolant to pool underneath the engine compartment. An easy coolant reservoir inspection can straighten up the issue. If left unfixed, though, the reservoir could fail, causing the engine to overheat. Models made from 2000 to 2007 are most at-risk for coolant loss.
How Much Does Jaguar Repair Cost?
According to RepairPal, the average annual cost of Jaguar maintenance is $1,123. All repair and maintenance costs will vary based on several factors, including mileage, age, location and service provider.
Here is a breakdown of typical Jaguar repair costs by model:
Jaguar X-Type – Oil Change: $146-$159
Jaguar X-Type – Clutch Replacement: $2,611-$3,102
Jaguar XJ6 – Mass Airflow Sensor Replacement: $872-$1,551
Jaguar XJS – Exhaust Manifold Gasket Replacement: $137-$159
Jaguar XJS – Coolant Leak Diagnosis: $59-$75
Jaguar XJR – Variable Valve Timing Control Solenoid Replacement: $451-$525
Jaguar XKR – Oxygen Sensor Test: $48-$60
Jaguar Super V8 – Spark Plug Replacement: $238-$336
*All prices according to RepairPal. Contact Rov-N-Techs today for a quote!
Rov-N-Techs performs all factory recommended services on Land Rovers & Jaguars at affordable prices! Master Technicians, Joe Caraway and Kevin Curtis worked at Land Rover of North Scottsdale for 10 years before opening their own shop in 2006 under the name of "Rover Techs". Now known as "Rov-N-Techs" Joe and Kevin offer over 35 years of combined Land Rover experience. Contact us today!