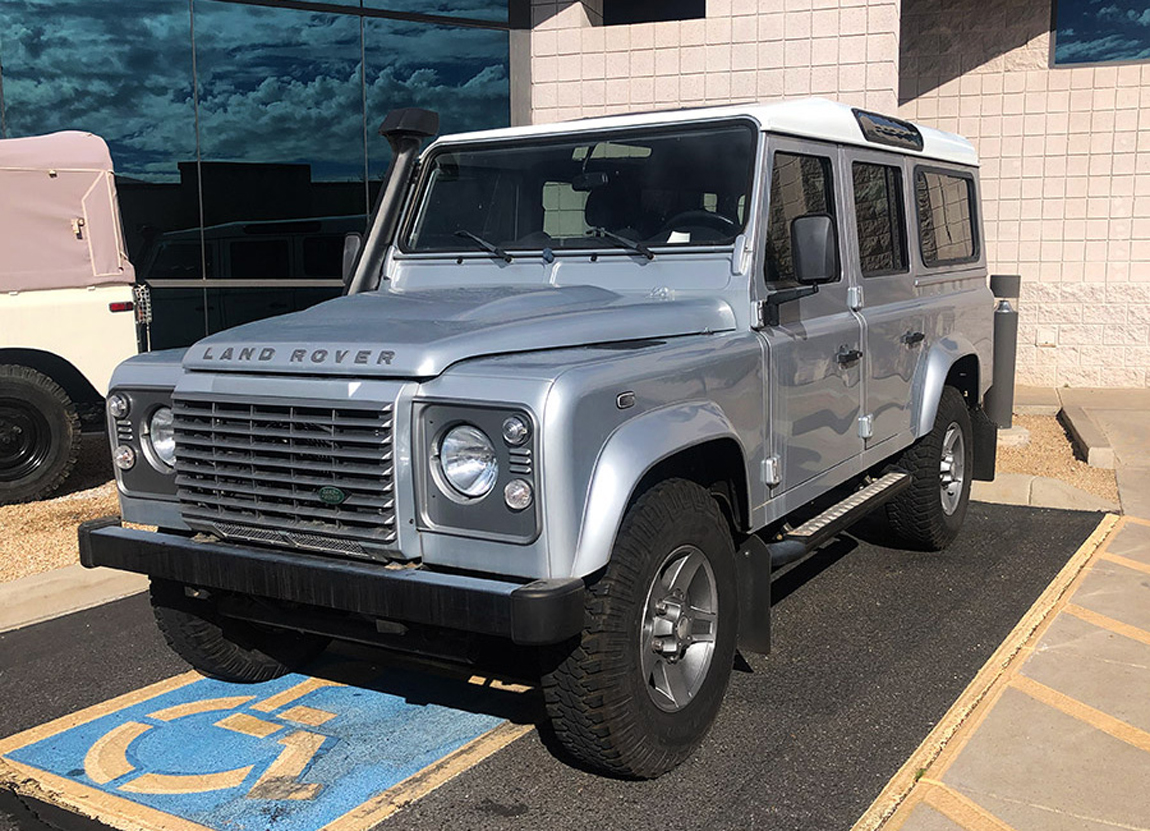 This article will highlight both the similarities and differences between Land Rovers and Range Rovers.
What Is A Land Rover?
Land Rover is the brand that produces both Land Rovers and Range Rovers. Focused on off-road prowess, the Land Rover comes in two different sport utility vehicles, including the Discovery and the Discovery Sport. Land Rovers actually come with an optional third row to accommodate more passengers, unlike Range Rovers. The price tag for Land Rovers generally runs between $38,000-$80,000. The cost varies widely due to the amount of luxury features that can be included in the vehicle. Yet, there is no doubt the build of the car was made for rugged terrain.
These vehicles come equipped with a Terrain Response system, which includes gradient acceleration control, hill start assist and hill-descent control. Several different available drive modes allow the driver to customize the ride for any sort of terrain or inclement weather. Despite the focus on off-roading, Land Rovers truly remain luxury vehicles by design. Potential buyers can opt for heated third-row seats, massaging front seats and four-zone climate control.
Here's a closer look at Land Rover models:
Land Rover Discovery: Offering third-row seating, the Discovery is designed for strength and advanced safety on the highways.
Land Rover Discovery Sport: Has many of the same features as the Discovery, but this model is more compact.
What Is A Range Rover?
Range Rovers generally come with a higher price tag than Land Rovers, and they are targeted to wealthy buyers in most cases. The Range Rover brand currently produces four different vehicles, including Evoque, mid-size Velar, Range Rover Sport and the full-size Range Rover. This vehicle is known for combining elements from the Land Rover. The Range Rover beautifully blends off-road capabilities with refined interior. Range Rover prices typically start around $40,000, but can increase all the way to $200,000 with added features.
Range Rovers are considered to be urban luxury vehicles, yet they still come equipped with all the off-road capabilities of a Land Rover. These cars also have systems in place for any rough terrain you may encounter. These all-wheel-drive vehicles come with a plethora of ground clearance and more than enough towing capacity. Most Range Rover models come with only two rows, but the Range Rover Sport comes with an optional third row, capable of seating seven comfortably.
Here's a closer look at Range Rover models:
Range Rover: The original concept comes with four-wheel drive and great off-road ability. This is the most expensive Range Rover model on the market.
Range Rover Sport: The biggest difference between the Sport and the original Range Rover is its versatility.
Range Rover Evoque: This model features a unique design and advanced features at a more affordable price.
Range Rover Velar: The perfect model for anyone seeking a more compact model than the original version.

What Are The Differences Between Land Rover And Range Rover?
Function is one of the main differences between Land Rover and Range Rover. Range Rovers certainly put more of an emphasis on luxury, while Land Rovers focus on off-road performance. Land Rover only creates two models, while Range Rover currently has four vehicles on the market. Land Rovers are rugged compared to Range Rovers which are more luxurious and refined. Both vehicles are undoubtedly made to trek through tough conditions, but Range Rovers are higher end and come with a much larger price tag.
Which Vehicle Is Larger?
Both Land and Range Rovers come in a range of sizes across the compact, mid-size and full-size SUV spectrum. Typically, Range Rovers are smaller than Land Rovers. For example, Range Rover's Evoque is much smaller than Land Rover's Discovery Sport, its smallest vehicle offering. The Discovery Sport features more cargo space, passenger room and towing capacity than the Evoque.
Is Range Rover More Expensive Than Land Rover?
Yes, Range Rovers will come with a heftier cost. New Range Rovers cost between $40,000-$200,000. Meanwhile, Land Rovers range in cost between $38,000-$80,000. Regardless of the sticker price, both are still considered luxury vehicles.
Rov-N-Techs performs all factory recommended services on Land Rovers & Jaguars at affordable prices! Master Technicians, Joe Caraway and Kevin Curtis worked at Land Rover of North Scottsdale for 10 years before opening their own shop in 2006 under the name of "Rover Techs". Now known as "Rov-N-Techs" Joe and Kevin offer over 35 years of combined Land Rover experience. Contact us today!